The Adelaide hills are the weather remains of a mountain range that a billion years ago was said to have rivalled the Himalayas. These ancient soils and gentle elevated slopes, within 30 minutes of the sea, offer excellent and varied vineyard sites that can be tailored to a wide range of early ripening grape varieties making bright, intense flavoured, cool climate wines that rival any in Australia.

-Tim Knappstein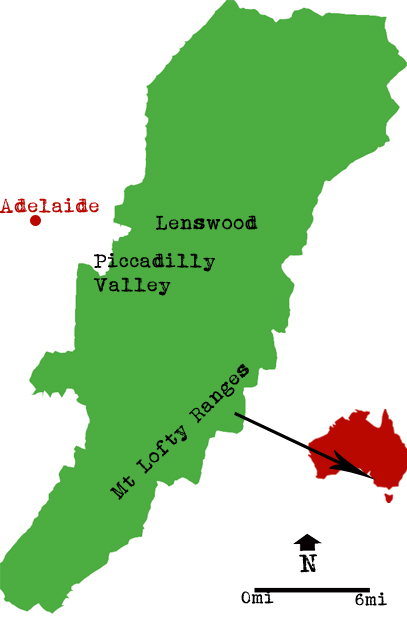 The Adelaide Hills is a region growing in recognition for its quality of cool climate wines including Chardonnay, Sauvignon Blanc and Pinot Noir. It is part of the Mount Lofty Ranges zone (shared with the Clare Valley, but distinct from Barossa). Viticulture was practiced dating back to the 1870s, but the industry went into hibernation between the 1930s and 1970s.
Like other regions, the Adelaide Hills speaks of many sub-climates and soils. It lies about a half-hour drive from Adelaide and its misty early mornings make for dream-sequence-like passage across the hills and dales. The two main subregions are Lenswood and Piccadilly Valley (further east and about 1,300 feet in altitude). In a testament to the quality of the regions, a couple of well-known quality wineries hold vineyards there including Henschke in Lenswood and Grosset in the Piccadilly Valley.