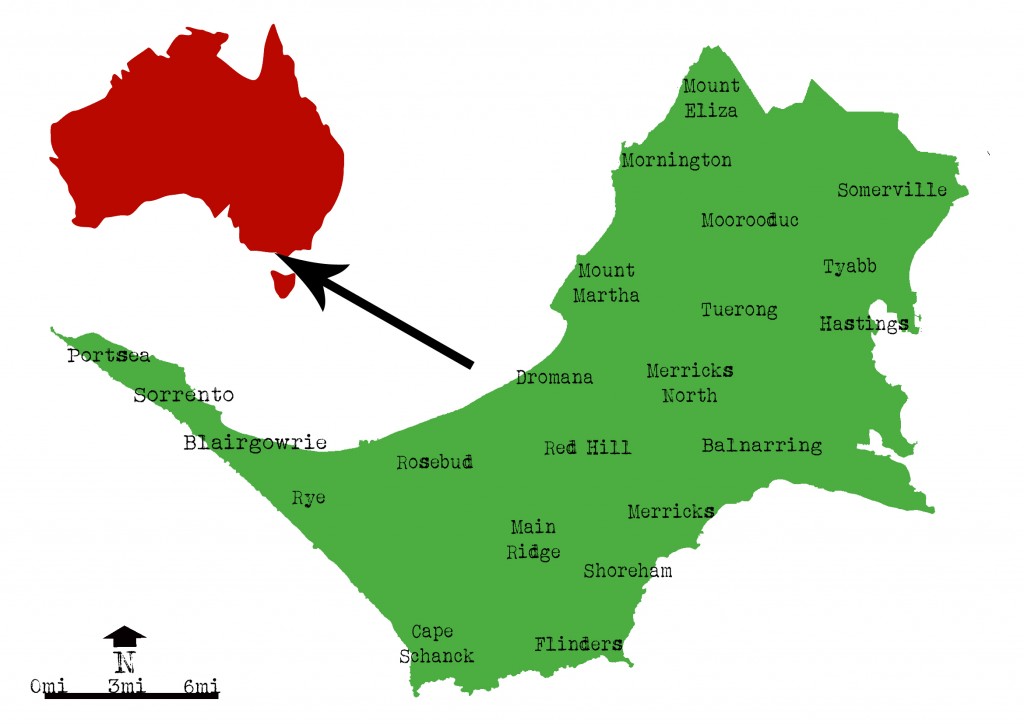 As Burgundy is to France, so the Mornington Peninsula is to Victoria: a region known mostly for its Chardonnay and Pinot Noir. It's a wine as well as beach tourism destination for Victorians, being just over an hour's drive from Melbourne. (The map above shows some of the sub-regions within the Mornington Peninsula).
The Peninsula encircles the eastern side of the port of Melbourne. At the farthest point lies Point Nepean near Portsea where, in a more bizarre moment of Australian history, Prime Minister Harold Holt disappeared while swimming in 1967. (Today he is glorified by the "Harold Holt Swim Center" in inner Melbourne).
The vineyards of the Mornington Peninsula are dispersed inland around the "heart" of the region. At the northern end lies Moorooduc (the warmer part) and toward the south is Main Ridge (higher altitude), each with their own complexities and flavors.
There are 200 small vineyards in the Peninsula and 50 cellar doors. The annual mean temperature is 66 degrees Farenheit. Overall, one will sense a distinct acidity to Mornington wines that adds a crispness to fruit flavors such as melon or stone fruits (in the Chardonnays) or cherries, plums or raspberries (in the Pinot Noir). As local winemaker Richard McIntyre has written:
Probably the clearest and most important feature of Mornington Peninsula Chardonnay is the high level of acid in the grapes when fully ripe in terms of sugar and flavor. The fruit from the cooler sites is so high in acid that the resulting wines cry out for a malolactic fermentation to bring them into balance. From the less cool sites, the wines are still acid enough to carry the effects of malolactic fermentation without losing acid balance.
The best Pinot Noirs from both [of Mornington's] subregions show complexity of primary fruit aromas and flavors in the spectrum of cherries, plums and raspberries, with the "up the hill" (Main Ridge) wines tending to the red fruits and the "down the hill" (Moorooduc) wines to the darker fruits. Savory complexity is common and, as vine age is increasing, we are seeing more tannic structure in the wines, to an unusual degree for new world pinot noir.