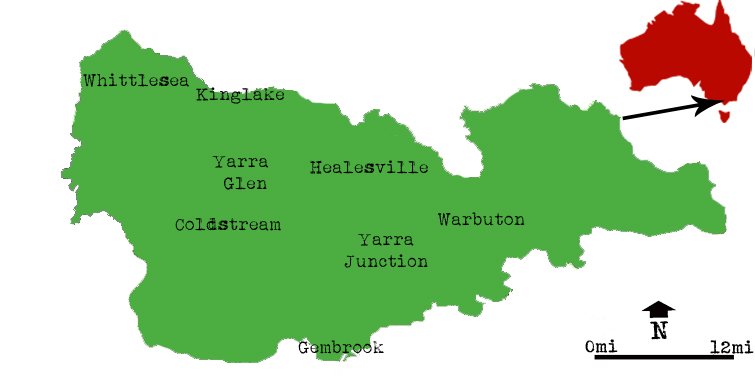 The Yarra Valley is a captivating land of contrasts: hills, valleys, vines, sheep, wine dogs, clouds, sun…it's an ever-changing vista. About an hour's drive East of Melbourne, the region has a deep history as Australia's oldest wine growing district.
Although the first vines were planted as far back as 1838, the region has suffered a troubled history. The Yarra Valley became dormant as a major producing region in 1937 when vineyards were converted to grazing land and it was almost thirty years before the new generation of wineries reemerged. By the 1980s a rejuvenation was clearly underway. Today, there are over one hundred wineries of all shapes and sizes. A large number are found between the central towns of Yarra Glen, Coldstream and Healesville.
Any wine labelled "Yarra Valley" must contain at least 85% fruit from this region, which possesses about 6,400 acres under vine. The main grapes are Pinot Noir, Chardonnay (both also used for sparkling), Shiraz, Merlot and Sauvignon Blanc. As a whole, the Yarra Valley is cooler than Bordeaux, but warmer than Burgundy, with altitudes anywhere between 165 to 1,300 feet. Harvest is around March to May, starting with Pinot Noir and progressing onto Cabernet Sauvignon toward the end. Soil types differ between sandy clay loam and mixed rock/clay subsoil, and younger bright red volcanic soil.
Like all other regions in the world, each Yarra Vally vineyard has a unique terroir, different vine ages and distinct wine making styles, making it hard to paint a definitive picture of what to unanimously expect when you open a bottle of Yarra Valley wine. That said, there are some qualities that one might expect to find. Because the region is cooler climate, fat, fruity high alcohol wines are uncommon. You can still find a voluptuous shiraz, but refined elegance and silky tannins come through clearly. Viognier is often blended with Shiraz to add deeper color and aroma. Due to the cooler climate, Cabernets lean more toward being medium-bodied; in the Pinot Noir and Chardonnay, Burgundian qualities dominate.